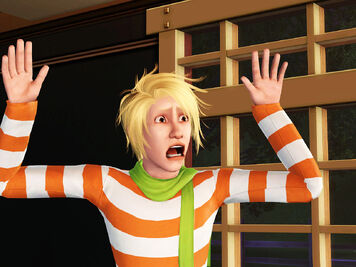 Write the first paragraph of your page here.
Major Blog Events
Edit
Barry angered Thorton by calling him a 'dork', which later provoked Thorton into taking revenge by casting a 'Toadification' curse on him, resulting in his head becoming a toad's head.
He tried to persuade his best friend and love interest Dawn to kiss him, hoping to reverse the spell, but Dawn ran for the hills after the first attempt was unsuccessful.
Later, he tried to get Roark to kiss him, per his vampiric father Palmer's suggestion, however that turned Roark into a being just like him.
Finally, after persuading Dawn a second time, the spell broke and Barry once again became a human.
Major Fan Events
Edit
Relationships
Edit
Palmer
Dawn
Thorton
Ad blocker interference detected!
Wikia is a free-to-use site that makes money from advertising. We have a modified experience for viewers using ad blockers

Wikia is not accessible if you've made further modifications. Remove the custom ad blocker rule(s) and the page will load as expected.